About The Project
ICHS Town a Co-operative Housing Scheme also known as "ICHS Town" is a fine gemstone near the new Islamabad Airport, It's a project that's been certified with the ICT administration's cooperative societies department. In the midst of high profile housing societies, the clients have ICHS Town to count on because of the extremely affordable residences. ICHS Town is set to be developed on a 9000 kanal. The association aims to meet the housing needs of around 35 to 40 thousand people in the area. The housing project presents exquisite views of glorious Margalla Hills.
Developers
It was founded in 1989 and is administered by the Islamabad Cooperative Housing Scheme. A group of government officers at the time took the initiative. This project is administered by 22-grade government officers and falls under the category of Semi-Government. Any individual does not own it. Approval of layout plans for the society is per specified rules and regulations of the Capital Development Authority (CDA).
Certification and NOCs
It is a registered project with the Department of ICT Administration's Cooperative Societies, with the registration number 313.
Following NOCs have been obtained by ICHS from concerned departments:
Tehsil Municipal Administration (TMA)

NOC No. 567/SL/N-I/TP/TMAF,
Tehsil Municipal Administration (TMA),
Fateh Jang

Cooperative Societies

Registration No. 313,
Co-operative Societies Department,
ICT, Islamabad.

Civil Aviation Authorities (CAA)

NOC No. HQCAA/1124/44/ATS(P/C) 2693 ,
Civil Aviation Authority,
Headquarters, Karachi.

Ministry Of Defense (MOD)

NOC No.6/53/Misc/D-28/2008,
Ministry of Defence,
Government of Pakistan.

Environment Protection Department (EPD)

NOC No. DD(EIA)EPA/F-80(IEE)/0307/2009/2892
Environmental Protection Department,
Government of Punjab.
Location
ICHS Town is located near Tarnol and Fateh Jang, and is only a 5-minute drive from the New Islamabad International Airport. It is also only 24 kilometres from the Zero Point Interchange in Islamabad. The main Kashmir Highway provides easy access to the ICHS Town Location. It can also be reached through Kasana Dam Road and Airport Cargo Road.
It is close to the CEPEC root and is situated near Fetah Jang Road.
Total Area
The land area is 7000 kanal in total. According to reports, the community would soon cover a total area of 9000 Kanal. ICHS Town is set to be built on a 9000 kanal plot of land. The association plans to meet the housing needs of around 35 to 40 thousand people in the area.
ICHS Master Plan
ICHS Town Islamabad based on three Phase:
The site's first phase is complete developed and is available on resale.h The society was initially divided into six residential blocks. However, Phase 2 hasis under development, and you may now purchase residential plots of 5 Marla, 7 Marla, 10 Marla, and 1 Kanal on a 2.5-year instalment plan as well as commercial plots of 4 marla and 1 kanal.
Development Status
At the moment, ICHS PHASE 1 has accomplished more than 85% of the development process. As a result, its professional dedication is strengthened. Phasse 2 Ground levelling has been completed, and work on the Gate 2 Entrance has been completed. In addition, the main road is planned to be completed in few next months. Furthermore, the developers are working hard to ensure that residents receive all of the stated services and facilities.
Water, gas, electricity, and telephone lines have been constructed, and construction on carpeted roads that connect all regions of the society has been completed. The entrance gate and the boundary wall that surrounds the housing project have also been completed. Solar lights have been put on the Main Boulevard to make the housing society more environmentally friendly. A water and sewerage disposal system is also in place in the area. As previously said, when all of the development is integrated with the project's attractions and contemporary infrastructure, the value of property for its occupants rises at a sustainable rate.
Facilities and Amenities
Electricity, Water, and Gas
Sewerage System
162 ft Main Boulevard
Wide Streets
Street lights
Jogging routes
Golf course
Community club
Gated community
Mosques, Hospitals & Schools
Parks
Shopping Centers
financial perspective
Payment plan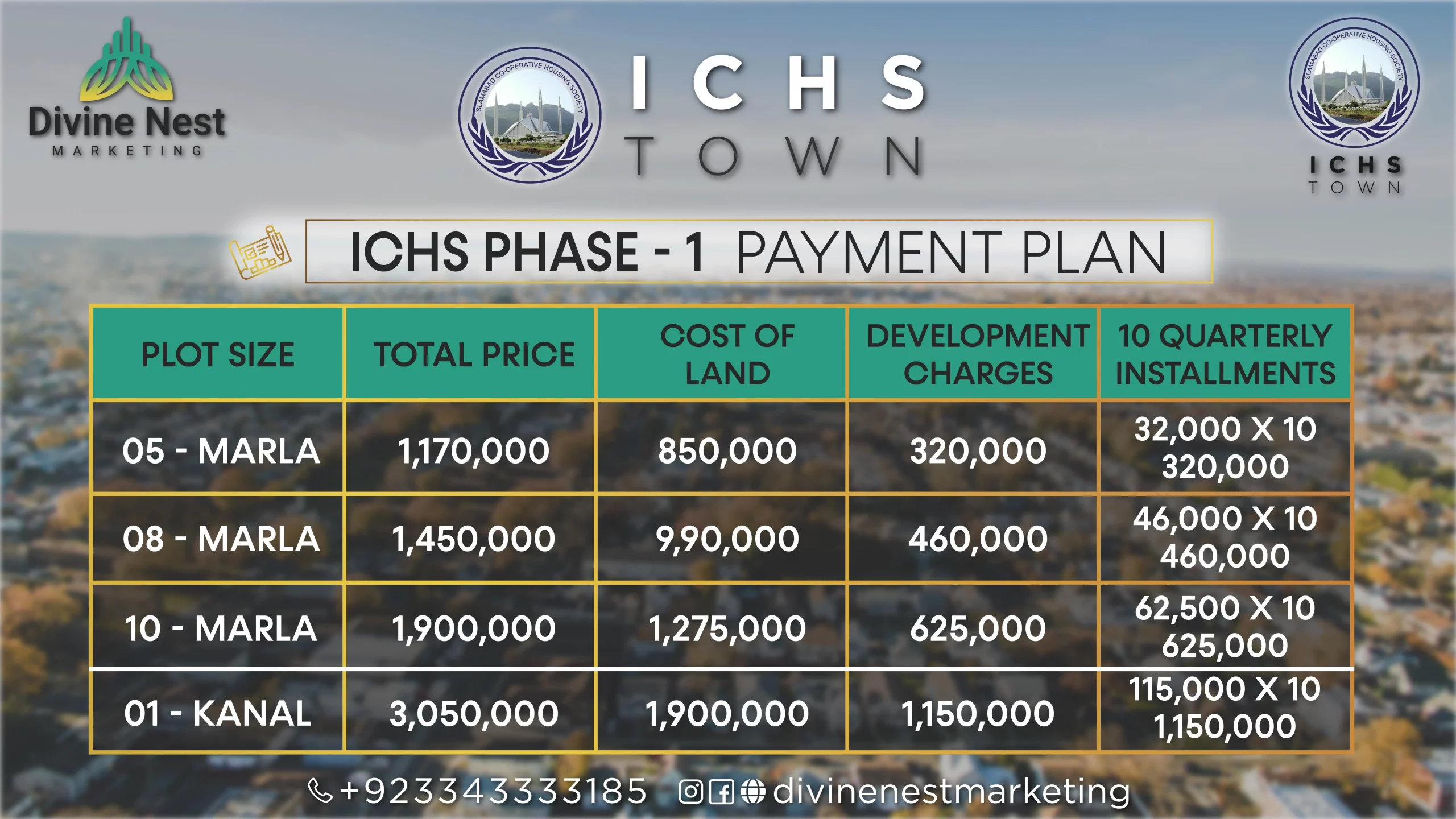 Investment standpoint
It is a well-planned and beautiful housing society that has been rapidly increasing due to the region's changing economic circumstances. It is unquestionably a tremendous investment opportunity, not just in residential but also in commercial buildings within the society. The value and worth of an investment are enhanced by reliable infrastructure, finely built roadways, modern architecture, and modern facilities.
Booking process
In order to book a plot, contact us. The documents you will need are as follows:
2 copies of CNIC of applicant
A CNIC copy of Next of Kin or nominee
2 passport size pictures
Booking amount can be paid in the form of a pay order, cash or a direct deposit in the company's account. To register a plot at ICHS Town, simply download the associated booking form, fill it out, and submit it along with the required documents (CNIC and photo) and a down payment.
Booking Form
FAQs